Dawn Winalski (she/her)
Winalski Law LLC is no longer taking new clients. Dawn Winalski is in the process of closing down Winalski Law LLC. And look ahead to new opportunities! Stay tuned!
If you have questions, you can reach me at dawn [at] dawnwinalski.com
About Me: Throughout my career, I have worked with a wide range of organizations, from a county-level government with a land area the size of Utah to non-profits just starting out. I have also worked in a wide variety of roles on ballot measure and candidate campaigns. And I have lived in many parts of the United States — from New England to the Alaskan Arctic.
I have worked in the field as a stream ecologist, in the laboratory analyzing water samples, and with state and federal agencies on environmental law and policy. I also clerked for the Honorable Judge Matarazzo at the Multnomah County Court.
For nearly four years, I lived in Arctic Alaska and worked as an Assistant Borough Attorney for the North Slope Borough. The North Slope Borough is a government similar to a county in the Lower 48. Yet it is the size of the State of Utah, has about 10,000 people and is incredibly remote. As such, it has many unique challenges. I worked closely with the Mayor, Assembly and Borough Departments on a wide range of issues that affect municipalities, and many issues that are unique to the Arctic. I also lived in Anchorage, and worked with the State of Alaska Department of Natural Resources Commissioner's Office.
After moving back to Oregon, I worked for Hobbs Straus Dean and Walker, LLP, working with Tribes and Tribal organizations. And from fall 2019 to September 2022, operated Winalski Law LLC as a solo law practice.
I currently serve as a Vice Chair for the ABA Section on Environment, Energy, and Resources, Native American Resources Committee, as a Co-Chair for the Oregon State Bar Indian Law Section and as a member of the Oregon Women Lawyers Leadership Committee. I teach yoga (RYT-200 certified), coach youth lacrosse, run, hike, and watch college sports. I like to travel, and have visited 23 countries (including seven in 2017).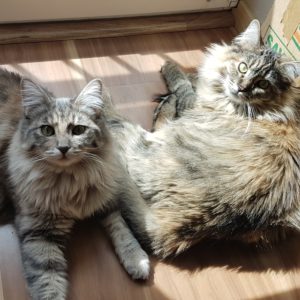 Lightning & Kodiak
Lightning (l) and Kodiak (r) joined my family in October 2018 after being adopted from Cat Utopia. They also enjoy watching men's and women's college basketball and cheering for the Oregon Ducks and UConn Huskies!